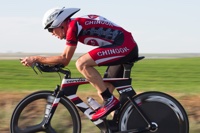 Course Description & Leaderboard
Home
N Stevens 40 K
Strava Segment

The 40K course will be on North Stevens Drive. This course starts 100 feet north of the intersection of North Stevens Drive and Horn Rapids Road. The route will go north and then northwest out the Hanford Highway 4S to Power Plant Road (7 miles from the start, at mile post 16). Turn right on Power Plant Road and go to the marked turnaround u-turn (about 100 meters beyond the railroad crossing) back to the Hanford Highway (about 1.5 miles from the turnaround). Then continue northwest towards the Wye Barricade, turning around where the gravel median becomes pavement (before the left turn lane begins, also marked by a yellow post at the end of the gravel median). Return on the other side of the road (no detours on the return route, and 10.7 miles to finish line). The finish is just before the light at the Horn Rapids intersection on N. Stevens. Parking is available in the parking lot southeast from the corner of GW Way and Horn Rapids Road.

266 rides by 76 Riders between 04/21/2020 and 08/13/2022
Next scheduled ride is set for 05/13/2023 08:00 am to 05/13/2023 11:30 am.

Handicap Top 50
| | | | | | | | | | |
| --- | --- | --- | --- | --- | --- | --- | --- | --- | --- |
| Rank | Date | Rider | Gender | Age | Raw | Handicap | Time | MPH | Note |
| 1 | 2020-06-16 | Hanson, Steve | M | 48 | 00:53:49 | 1.059 | 00:50:49 | 27.71 | Handicap KOM |
| 2 | 2022-07-16 | Groendyke, Craig | M | 76 | 01:11:10 | 1.376 | 00:51:43 | 20.95 | Top Handicap #2 |
| 3 | 2020-04-21 | Elliott, Timothy | M | 68 | 01:03:00 | 1.213 | 00:51:56 | 23.67 | Top Handicap #3 |
| 4 | 2022-07-16 | Painter, Mark | M | 72 | 01:07:18 | 1.284 | 00:52:25 | 22.15 | Top Handicap #4 |
| 5 | 2022-05-21 | Turpen, Greg | M | 56 | 00:57:35 | 1.095 | 00:52:35 | 25.89 | Top Handicap #5 |
| 6 | 2021-04-20 | Farawila, Anne | F | 46 | 01:04:02 | 1.210 | 00:52:55 | 23.28 | Top Handicap #6 |
| 7 | 2022-08-13 | Scrimsher, Rodney | M | 56 | 00:58:21 | 1.095 | 00:53:17 | 25.55 | Top Handicap #7 |
| 8 | 2021-04-20 | Selby, Lori | F | 60 | 01:09:03 | 1.290 | 00:53:32 | 21.59 | Top Handicap #8 |
| 9 | 2020-06-16 | Spivack, Ian | M | 40 | 00:55:23 | 1.025 | 00:54:02 | 26.92 | Top Handicap #9 |
| 10 | 2020-06-16 | Koenigs, Richard | M | 75 | 01:12:56 | 1.349 | 00:54:04 | 20.44 | Top Handicap #10 |
| 11 | 2020-04-21 | Brayton, Catiana | F | 43 | 01:06:37 | 1.195 | 00:55:45 | 22.38 | Top Handicap #11 |
| 12 | 2020-07-14 | Spangle, Diana | F | 65 | 01:15:54 | 1.346 | 00:56:23 | 19.64 | Top Handicap #12 |
| 13 | 2020-06-16 | Malm, Ryan | M | 39 | 00:58:12 | 1.021 | 00:57:00 | 25.62 | Top Handicap #13 |
| 14 | 2022-07-16 | Burke, John | M | 55 | 01:02:31 | 1.090 | 00:57:21 | 23.85 | Top Handicap #14 |
| 15 | 2020-05-19 | Schur, Brian | M | 47 | 01:00:37 | 1.054 | 00:57:31 | 24.60 | Top Handicap #15 |
| 16 | 2020-05-19 | Farabee, Adrienne | F | 43 | 01:09:00 | 1.195 | 00:57:44 | 21.61 | Top Handicap #16 |
| 17 | 2022-07-16 | Wright, Adam | M | 43 | 01:00:21 | 1.038 | 00:58:08 | 24.71 | Top Handicap #17 |
| 18 | 2020-06-16 | Anderson, Brian | M | 44 | 01:00:37 | 1.042 | 00:58:10 | 24.60 | Top Handicap #18 |
| 19 | 2020-06-16 | Bisson, Tobi | F | 54 | 01:12:48 | 1.249 | 00:58:17 | 20.48 | Top Handicap #19 |
| 20 | 2022-08-13 | Wright, Athena | F | 43 | 01:10:30 | 1.195 | 00:59:00 | 21.15 | Top Handicap #20 |
| 21 | 2020-06-16 | Swanger, Pete | M | 58 | 01:05:18 | 1.106 | 00:59:02 | 22.83 | Top Handicap #21 |
| 22 | 2020-05-19 | Limbaugh, John | M | 50 | 01:03:08 | 1.067 | 00:59:10 | 23.62 | Top Handicap #22 |
| 23 | 2020-06-16 | Hohl, Ted | M | 58 | 01:05:33 | 1.106 | 00:59:16 | 22.75 | Top Handicap #23 |
| 24 | 2020-06-16 | Canaday, Steve | M | 73 | 01:18:49 | 1.303 | 01:00:29 | 18.92 | Top Handicap #24 |
| 25 | 2022-07-16 | Hanf, Bill | M | 73 | 01:19:07 | 1.303 | 01:00:43 | 18.85 | Top Handicap #25 |
| 26 | 2022-08-13 | Leichtfuss, Eric | M | 33 | 01:01:01 | 1.003 | 01:00:50 | 24.44 | Top Handicap #26 |
| 27 | 2021-04-20 | Treadway, Phil | M | 59 | 01:08:06 | 1.112 | 01:01:14 | 21.89 | Top Handicap #27 |
| 28 | 2022-07-16 | Mclean, Mark | M | 67 | 01:13:46 | 1.198 | 01:01:34 | 20.21 | Top Handicap #28 |
| 29 | 2020-05-19 | Mcduffie, Steve | M | 55 | 01:07:34 | 1.090 | 01:01:59 | 22.07 | Top Handicap #29 |
| 30 | 2020-06-16 | Buchko, Garry | M | 59 | 01:09:04 | 1.112 | 01:02:07 | 21.59 | Top Handicap #30 |
| 31 | 2022-08-13 | Romaniuk, Greg | M | 51 | 01:06:40 | 1.071 | 01:02:15 | 22.37 | Top Handicap #31 |
| 32 | 2021-04-20 | Mealer, Michael | M | 41 | 01:04:21 | 1.029 | 01:02:32 | 23.17 | Top Handicap #32 |
| 33 | 2020-06-16 | Palmer, Rose | F | 39 | 01:13:41 | 1.176 | 01:02:39 | 20.24 | Top Handicap #33 |
| 34 | 2020-04-21 | Sarber, Scott | M | 51 | 01:08:14 | 1.071 | 01:03:43 | 21.85 | Top Handicap #34 |
| 35 | 2020-06-16 | Solbrack, Missi | F | 60 | 01:22:22 | 1.290 | 01:03:51 | 18.10 | Top Handicap #35 |
| 36 | 2020-07-14 | Serreyn, Laura | F | 46 | 01:17:36 | 1.210 | 01:04:08 | 19.21 | Top Handicap #36 |
| 37 | 2020-04-21 | Eder, Chad | M | 46 | 01:07:22 | 1.050 | 01:04:10 | 22.13 | Top Handicap #37 |
| 38 | 2020-06-16 | Anderson, Kristin | F | 62 | 01:24:25 | 1.309 | 01:04:29 | 17.66 | Top Handicap #38 |
| 39 | 2022-07-16 | Mccall, Jonathon | M | 55 | 01:10:40 | 1.090 | 01:04:50 | 21.10 | Top Handicap #39 |
| 40 | 2022-07-16 | Murphy, Sean | M | 59 | 01:12:11 | 1.112 | 01:04:55 | 20.66 | Top Handicap #40 |
| 41 | 2020-06-16 | Mccue, Stan | M | 64 | 01:15:10 | 1.154 | 01:05:08 | 19.84 | Top Handicap #41 |
| 42 | 2020-06-16 | Strycula, Diane | F | 59 | 01:23:23 | 1.280 | 01:05:09 | 17.88 | Top Handicap #42 |
| 43 | 2020-07-14 | Anderson, Steve | M | 60 | 01:13:27 | 1.120 | 01:05:35 | 20.30 | Top Handicap #43 |
| 44 | 2022-07-16 | Solbrack, Brad | M | 66 | 01:18:03 | 1.183 | 01:05:59 | 19.10 | Top Handicap #44 |
| 45 | 2022-07-16 | Sweet, Luke | M | 43 | 01:09:31 | 1.038 | 01:06:58 | 21.45 | Top Handicap #45 |
| 46 | 2020-06-16 | O'hagan, Mike | M | 62 | 01:16:15 | 1.137 | 01:07:04 | 19.55 | Top Handicap #46 |
| 47 | 2020-08-11 | Schmidt, Ken | M | 41 | 01:09:12 | 1.029 | 01:07:15 | 21.55 | Top Handicap #47 |
| 48 | 2022-07-16 | Hanf, Diane | F | 66 | 01:33:05 | 1.363 | 01:08:18 | 16.02 | Top Handicap #48 |
| 49 | 2022-08-13 | O'hagan, Mike | M | 64 | 01:19:20 | 1.154 | 01:08:45 | 18.79 | Top Handicap #49 |
| 50 | 2022-07-16 | Marshall, Robert | M | 78 | 01:40:38 | 1.432 | 01:10:16 | 14.82 | Top Handicap #50 |
Raw Male Top 50
| | | | | | | |
| --- | --- | --- | --- | --- | --- | --- |
| Rank | Date | Rider | Age | Ride Time | MPH | Note |
| 1 | 2020-06-16 | Hanson, Steve | 48 | 00:53:49 | 27.71 | Raw KOM |
| 2 | 2020-06-16 | Spivack, Ian | 40 | 00:55:23 | 26.92 | Top Raw #2 |
| 3 | 2022-05-21 | Turpen, Greg | 56 | 00:57:35 | 25.89 | Top Raw #3 |
| 4 | 2020-06-16 | Malm, Ryan | 39 | 00:58:12 | 25.62 | Top Raw #4 |
| 5 | 2022-08-13 | Scrimsher, Rodney | 56 | 00:58:21 | 25.55 | Top Raw #5 |
| 6 | 2022-07-16 | Wright, Adam | 43 | 01:00:21 | 24.71 | Top Raw #6 |
| 7 | 2020-05-19 | Schur, Brian | 47 | 01:00:37 | 24.60 | Top Raw #7 |
| 8 | 2020-06-16 | Anderson, Brian | 44 | 01:00:37 | 24.60 | Top Raw #8 |
| 9 | 2022-08-13 | Leichtfuss, Eric | 33 | 01:01:01 | 24.44 | Top Raw #9 |
| 10 | 2022-07-16 | Burke, John | 55 | 01:02:31 | 23.85 | Top Raw #10 |
| 11 | 2020-04-21 | Elliott, Timothy | 68 | 01:03:00 | 23.67 | Top Raw #11 |
| 12 | 2020-05-19 | Limbaugh, John | 50 | 01:03:08 | 23.62 | Top Raw #12 |
| 13 | 2021-04-20 | Mealer, Michael | 41 | 01:04:21 | 23.17 | Top Raw #13 |
| 14 | 2020-06-16 | Swanger, Pete | 58 | 01:05:18 | 22.83 | Top Raw #14 |
| 15 | 2020-06-16 | Hohl, Ted | 58 | 01:05:33 | 22.75 | Top Raw #15 |
| 16 | 2022-08-13 | Romaniuk, Greg | 51 | 01:06:40 | 22.37 | Top Raw #16 |
| 17 | 2022-07-16 | Painter, Mark | 72 | 01:07:18 | 22.15 | Top Raw #17 |
| 18 | 2020-04-21 | Eder, Chad | 46 | 01:07:22 | 22.13 | Top Raw #18 |
| 19 | 2020-05-19 | Mcduffie, Steve | 55 | 01:07:34 | 22.07 | Top Raw #19 |
| 20 | 2021-04-20 | Treadway, Phil | 59 | 01:08:06 | 21.89 | Top Raw #20 |
| 21 | 2020-04-21 | Sarber, Scott | 51 | 01:08:14 | 21.85 | Top Raw #21 |
| 22 | 2020-06-16 | Buchko, Garry | 59 | 01:09:04 | 21.59 | Top Raw #22 |
| 23 | 2020-08-11 | Schmidt, Ken | 41 | 01:09:12 | 21.55 | Top Raw #23 |
| 24 | 2022-07-16 | Sweet, Luke | 43 | 01:09:31 | 21.45 | Top Raw #24 |
| 25 | 2022-07-16 | Mccall, Jonathon | 55 | 01:10:40 | 21.10 | Top Raw #25 |
| 26 | 2020-06-16 | Groendyke, Craig | 74 | 01:10:59 | 21.00 | Top Raw #26 |
| 27 | 2022-07-16 | Murphy, Sean | 59 | 01:12:11 | 20.66 | Top Raw #27 |
| 28 | 2020-06-16 | Koenigs, Richard | 75 | 01:12:56 | 20.44 | Top Raw #28 |
| 29 | 2020-07-14 | Anderson, Steve | 60 | 01:13:27 | 20.30 | Top Raw #29 |
| 30 | 2020-04-21 | Brayton, Drew | 40 | 01:13:35 | 20.26 | Top Raw #30 |
| 31 | 2022-07-16 | Mclean, Mark | 67 | 01:13:46 | 20.21 | Top Raw #31 |
| 32 | 2020-06-16 | Mccue, Stan | 64 | 01:15:10 | 19.84 | Top Raw #32 |
| 33 | 2020-06-16 | O'hagan, Mike | 62 | 01:16:15 | 19.55 | Top Raw #33 |
| 34 | 2020-07-14 | Wadsworth, Doug | 47 | 01:17:02 | 19.36 | Top Raw #34 |
| 35 | 2020-08-11 | Cammarata, Vincent | 29 | 01:17:02 | 19.36 | Top Raw #35 |
| 36 | 2020-06-16 | Cramer, Nick | 41 | 01:17:04 | 19.35 | Top Raw #36 |
| 37 | 2022-07-16 | Solbrack, Brad | 66 | 01:18:03 | 19.10 | Top Raw #37 |
| 38 | 2020-06-16 | Canaday, Steve | 73 | 01:18:49 | 18.92 | Top Raw #38 |
| 39 | 2022-07-16 | Hanf, Bill | 73 | 01:19:07 | 18.85 | Top Raw #39 |
| 40 | 2022-08-13 | O'hagan, Mike | 64 | 01:19:20 | 18.79 | Top Raw #40 |
| 41 | 2022-05-21 | M serafin, Shane | 37 | 01:20:15 | 18.58 | Top Raw #41 |
| 42 | 2020-05-19 | Harp, Brian | 54 | 01:22:46 | 18.01 | Top Raw #42 |
| 43 | 2021-04-20 | Airoldi, John | 60 | 01:23:29 | 17.86 | Top Raw #43 |
| 44 | 2020-06-16 | Sedgwick, Jeffrey | 52 | 01:26:23 | 17.26 | Top Raw #44 |
| 45 | 2020-06-16 | Pofahl, Bill | 69 | 01:27:35 | 17.02 | Top Raw #45 |
| 46 | 2022-08-13 | Sands, John | 58 | 01:29:43 | 16.62 | Top Raw #46 |
| 47 | 2021-04-20 | Chu, Albert | 54 | 01:30:30 | 16.48 | Top Raw #47 |
| 48 | 2021-04-20 | Sedgwick, Jeff | 53 | 01:30:48 | 16.42 | Top Raw #48 |
| 49 | 2021-04-20 | Chu, Benjamin | 13 | 01:33:17 | 15.98 | Top Raw #49 |
| 50 | 2020-06-16 | Napier, Bruce | 67 | 01:33:32 | 15.94 | Top Raw #50 |
Raw Female Top 50
| | | | | | | |
| --- | --- | --- | --- | --- | --- | --- |
| Rank | Date | Rider | Age | Ride Time | MPH | Note |
| 1 | 2021-04-20 | Farawila, Anne | 46 | 01:04:02 | 23.28 | Raw KOM |
| 2 | 2020-04-21 | Brayton, Catiana | 43 | 01:06:37 | 22.38 | Top Raw #2 |
| 3 | 2020-04-21 | Selby, Lori | 59 | 01:08:58 | 21.62 | Top Raw #3 |
| 4 | 2020-05-19 | Farabee, Adrienne | 43 | 01:09:00 | 21.61 | Top Raw #4 |
| 5 | 2022-08-13 | Wright, Athena | 43 | 01:10:30 | 21.15 | Top Raw #5 |
| 6 | 2020-06-16 | Bisson, Tobi | 54 | 01:12:48 | 20.48 | Top Raw #6 |
| 7 | 2020-06-16 | Palmer, Rose | 39 | 01:13:41 | 20.24 | Top Raw #7 |
| 8 | 2020-07-14 | Spangle, Diana | 65 | 01:15:54 | 19.64 | Top Raw #8 |
| 9 | 2020-07-14 | Serreyn, Laura | 46 | 01:17:36 | 19.21 | Top Raw #9 |
| 10 | 2020-06-16 | Solbrack, Missi | 60 | 01:22:22 | 18.10 | Top Raw #10 |
| 11 | 2020-06-16 | Strycula, Diane | 59 | 01:23:23 | 17.88 | Top Raw #11 |
| 12 | 2020-06-16 | Anderson, Kristin | 62 | 01:24:25 | 17.66 | Top Raw #12 |
| 13 | 2020-07-14 | Aldrich, Christina | 29 | 01:25:19 | 17.48 | Top Raw #13 |
| 14 | 2022-07-16 | Hanf, Diane | 66 | 01:33:05 | 16.02 | Top Raw #14 |
| 15 | 2022-05-21 | Mclean, Linda | 66 | 01:35:48 | 15.56 | Top Raw #15 |
| 16 | 2021-04-20 | Stevens, Andi | 64 | 01:45:14 | 14.17 | Top Raw #16 |
| 17 | 2020-06-16 | Bamberger, Judith | 68 | 01:45:28 | 14.14 | Top Raw #17 |
| 18 | 2020-05-19 | Simmons, Carol | 50 | 01:51:58 | 13.32 | Top Raw #18 |