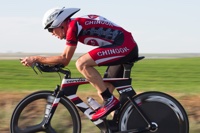 Course Description & Leaderboard
Home
N Harrington Rd. 10 mile
Strava Segment

Parking and getting to Start Line: Park in Flattop Park at the intersection of Van Giesen and Bombing Range Road then ride 2.3 miles down West Canal Drive to the start line. The start line is about 100 feet west of Twin Bridges Road on N Yakima River Dr.

The Course: West on North Yakima River Road for 2.8 miles; turn left then right to cross over the canal and continue west on North Harrington Road; U-turn at mile 5.2 at the end of the center double line a bit after passing Horn Rapids Dam and rounding the corner; then return on North Harrington until you reach the finish line at mile 10. Wooden stakes are in at start and finish. The Yakima River/Canal road (the first 2.5 miles) has a number of potholes, so please beware as there are potholes that can hide themselves quite well. All turns, the start and finish are marked.

Please beware of increased traffic on Harrington from the finish line back to 62nd.

373 rides by 71 Riders between 07/06/2021 and 05/09/2023
Next scheduled ride is set for 06/06/2023 03:30 pm to 06/06/2023 07:00 pm.

Get NOAA Forecasts
Calling NOAA API for 10 Start
Calling NOAA API for 10 Turn
Parsing error: properties->updated not found.
Captured Throwable: Parsing error: properties->updated not found.
Weather & AQI Forecasts
Forecast last updated 06/04/2023 05:22 pm
Minutes since last NOAA check is 37516
10 Start NOAA Weather Forecast Date: 06/06/2023 04:00 Temp: 94.0 Wind: N 13.0 Forecast: Sunny
10 Start NOAA Weather Forecast Date: 06/06/2023 05:00 Temp: 94.0 Wind: N 14.0 Forecast: Sunny
10 Start NOAA Weather Forecast Date: 06/06/2023 06:00 Temp: 93.0 Wind: N 14.0 Forecast: Mostly Clear
10 Start NOAA Weather Forecast Date: 06/06/2023 07:00 Temp: 90.0 Wind: N 14.0 Forecast: Mostly Clear
Kennewick Air Quality Forecast
Kenewick Metaline Air Quality Data
Handicap Top 50
| | | | | | | | | | |
| --- | --- | --- | --- | --- | --- | --- | --- | --- | --- |
| Rank | Date | Rider | Gender | Age | Raw | Handicap | Time | MPH | Note |
| 1 | 2022-09-13 | Groendyke, Craig | M | 76 | 00:27:27 | 1.376 | 00:19:57 | 21.86 | Handicap KOM |
| 2 | 2023-05-09 | Spangle, Diana | F | 68 | 00:28:00 | 1.397 | 00:20:03 | 21.43 | Top Handicap #2 |
| 3 | 2022-04-12 | Painter, Mark | M | 72 | 00:25:56 | 1.284 | 00:20:12 | 23.14 | Top Handicap #3 |
| 4 | 2022-09-13 | Turpen, Greg | M | 56 | 00:22:08 | 1.095 | 00:20:13 | 27.11 | Top Handicap #4 |
| 5 | 2022-06-07 | Hanson, Steve | M | 50 | 00:21:56 | 1.067 | 00:20:33 | 27.36 | Top Handicap #5 |
| 6 | 2022-09-13 | Farawila, Anne | F | 47 | 00:25:02 | 1.214 | 00:20:37 | 23.97 | Top Handicap #6 |
| 7 | 2021-08-31 | Scrimsher, Rodney | M | 55 | 00:22:46 | 1.090 | 00:20:53 | 26.35 | Top Handicap #7 |
| 8 | 2023-05-09 | Spivack, Ian | M | 43 | 00:22:14 | 1.038 | 00:21:25 | 26.99 | Top Handicap #8 |
| 9 | 2022-06-07 | Burke, John | M | 55 | 00:23:45 | 1.090 | 00:21:47 | 25.26 | Top Handicap #9 |
| 10 | 2022-05-10 | Brayton, Catiana | F | 45 | 00:26:17 | 1.205 | 00:21:49 | 22.83 | Top Handicap #10 |
| 11 | 2022-06-07 | Malm, Ryan | M | 41 | 00:22:37 | 1.029 | 00:21:59 | 26.53 | Top Handicap #11 |
| 12 | 2023-05-09 | Anderson, Brian | M | 47 | 00:23:31 | 1.054 | 00:22:19 | 25.51 | Top Handicap #12 |
| 13 | 2022-06-07 | Thoreson, Brian | M | 48 | 00:23:55 | 1.059 | 00:22:35 | 25.09 | Top Handicap #13 |
| 14 | 2022-05-10 | Swanger, Pete | M | 60 | 00:25:20 | 1.120 | 00:22:37 | 23.68 | Top Handicap #14 |
| 15 | 2022-08-30 | Hanf, Bill | M | 73 | 00:29:33 | 1.303 | 00:22:41 | 20.30 | Top Handicap #15 |
| 16 | 2023-05-09 | Thompson, Scott | M | 50 | 00:24:20 | 1.067 | 00:22:48 | 24.66 | Top Handicap #16 |
| 17 | 2022-07-05 | Wright, Athena | F | 43 | 00:27:24 | 1.195 | 00:22:56 | 21.90 | Top Handicap #17 |
| 18 | 2021-09-14 | Treadway, Phil | M | 59 | 00:25:38 | 1.112 | 00:23:03 | 23.41 | Top Handicap #18 |
| 19 | 2021-09-14 | Hohl, Ted | M | 59 | 00:25:42 | 1.112 | 00:23:07 | 23.35 | Top Handicap #19 |
| 20 | 2022-06-07 | Wright, Adam | M | 43 | 00:24:00 | 1.038 | 00:23:07 | 25.00 | Top Handicap #20 |
| 21 | 2023-05-09 | Brown, Darrel | M | 43 | 00:24:12 | 1.038 | 00:23:19 | 24.79 | Top Handicap #21 |
| 22 | 2022-06-07 | Leichtfuss, Eric | M | 33 | 00:23:36 | 1.003 | 00:23:32 | 25.42 | Top Handicap #22 |
| 23 | 2023-05-09 | Hanf, Robert | M | 74 | 00:31:11 | 1.323 | 00:23:34 | 19.24 | Top Handicap #23 |
| 24 | 2021-08-31 | Canaday, Steve | M | 74 | 00:31:16 | 1.323 | 00:23:38 | 19.19 | Top Handicap #24 |
| 25 | 2022-09-13 | Buchko, Garry | M | 61 | 00:26:44 | 1.128 | 00:23:42 | 22.44 | Top Handicap #25 |
| 26 | 2022-06-07 | Mclean, Mark | M | 67 | 00:28:57 | 1.198 | 00:24:10 | 20.73 | Top Handicap #26 |
| 27 | 2022-09-13 | Mccall, Jonathon | M | 55 | 00:26:21 | 1.090 | 00:24:10 | 22.77 | Top Handicap #27 |
| 28 | 2021-08-31 | Romaniuk, Greg | M | 50 | 00:25:49 | 1.067 | 00:24:12 | 23.24 | Top Handicap #28 |
| 29 | 2023-05-09 | Archibald, Danny | M | 51 | 00:26:31 | 1.071 | 00:24:46 | 22.63 | Top Handicap #29 |
| 30 | 2022-07-05 | Murphy, Sean | M | 59 | 00:27:33 | 1.112 | 00:24:47 | 21.78 | Top Handicap #30 |
| 31 | 2022-04-12 | Mcduffie, Steve | M | 57 | 00:27:19 | 1.101 | 00:24:49 | 21.96 | Top Handicap #31 |
| 32 | 2023-05-09 | Mccall, Jon | M | 56 | 00:27:12 | 1.095 | 00:24:50 | 22.06 | Top Handicap #32 |
| 33 | 2022-04-19 | Staloch, Tim | M | 42 | 00:25:42 | 1.033 | 00:24:53 | 23.35 | Top Handicap #33 |
| 34 | 2021-09-14 | Airoldi, John | M | 60 | 00:27:52 | 1.120 | 00:24:53 | 21.53 | Top Handicap #34 |
| 35 | 2023-04-18 | Bowker, Jason | M | 56 | 00:27:17 | 1.095 | 00:24:55 | 21.99 | Top Handicap #35 |
| 36 | 2021-09-14 | Solbrack, Missi | F | 61 | 00:32:42 | 1.300 | 00:25:09 | 18.35 | Top Handicap #36 |
| 37 | 2021-07-06 | Sturges, Mark | M | 58 | 00:27:52 | 1.106 | 00:25:12 | 21.53 | Top Handicap #37 |
| 38 | 2021-07-06 | Farr, Ryan | M | 51 | 00:27:00 | 1.071 | 00:25:13 | 22.22 | Top Handicap #38 |
| 39 | 2022-04-19 | Sarber, Scott | M | 53 | 00:27:16 | 1.080 | 00:25:15 | 22.00 | Top Handicap #39 |
| 40 | 2021-08-31 | Hanf, Diane | F | 65 | 00:34:00 | 1.346 | 00:25:16 | 17.65 | Top Handicap #40 |
| 41 | 2022-04-19 | Palmer, Rose | F | 41 | 00:30:00 | 1.186 | 00:25:18 | 20.00 | Top Handicap #41 |
| 42 | 2021-09-14 | Strycula, Diane | F | 60 | 00:32:39 | 1.290 | 00:25:19 | 18.38 | Top Handicap #42 |
| 43 | 2021-09-14 | Marshall, Robert | M | 77 | 00:35:36 | 1.404 | 00:25:21 | 16.85 | Top Handicap #43 |
| 44 | 2023-04-11 | Van tress, Cory | M | 42 | 00:26:13 | 1.033 | 00:25:23 | 22.89 | Top Handicap #44 |
| 45 | 2022-05-10 | Schafer, Brent | M | 27 | 00:25:33 | 1.000 | 00:25:33 | 23.48 | Top Handicap #45 |
| 46 | 2022-04-19 | Eder, Chad | M | 48 | 00:27:07 | 1.059 | 00:25:36 | 22.13 | Top Handicap #46 |
| 47 | 2022-09-13 | O'hagan, Mike | M | 64 | 00:29:34 | 1.154 | 00:25:37 | 20.29 | Top Handicap #47 |
| 48 | 2021-08-31 | Stock, Sherman | M | 85 | 00:43:29 | 1.694 | 00:25:40 | 13.80 | Top Handicap #48 |
| 49 | 2021-09-14 | Sweet, Luke | M | 42 | 00:26:33 | 1.033 | 00:25:42 | 22.60 | Top Handicap #49 |
| 50 | 2023-05-09 | O'hagan, Mike | M | 65 | 00:30:08 | 1.168 | 00:25:48 | 19.91 | Top Handicap #50 |
Raw Male Top 50
| | | | | | | |
| --- | --- | --- | --- | --- | --- | --- |
| Rank | Date | Rider | Age | Ride Time | MPH | Note |
| 1 | 2022-06-07 | Hanson, Steve | 50 | 00:21:56 | 27.36 | Raw KOM |
| 2 | 2022-09-13 | Turpen, Greg | 56 | 00:22:08 | 27.11 | Top Raw #2 |
| 3 | 2023-05-09 | Spivack, Ian | 43 | 00:22:14 | 26.99 | Top Raw #3 |
| 4 | 2022-06-07 | Malm, Ryan | 41 | 00:22:37 | 26.53 | Top Raw #4 |
| 5 | 2021-08-31 | Scrimsher, Rodney | 55 | 00:22:46 | 26.35 | Top Raw #5 |
| 6 | 2023-05-09 | Anderson, Brian | 47 | 00:23:31 | 25.51 | Top Raw #6 |
| 7 | 2022-06-07 | Leichtfuss, Eric | 33 | 00:23:36 | 25.42 | Top Raw #7 |
| 8 | 2022-06-07 | Burke, John | 55 | 00:23:45 | 25.26 | Top Raw #8 |
| 9 | 2022-06-07 | Thoreson, Brian | 48 | 00:23:55 | 25.09 | Top Raw #9 |
| 10 | 2022-06-07 | Wright, Adam | 43 | 00:24:00 | 25.00 | Top Raw #10 |
| 11 | 2023-05-09 | Brown, Darrel | 43 | 00:24:12 | 24.79 | Top Raw #11 |
| 12 | 2023-05-09 | Thompson, Scott | 50 | 00:24:20 | 24.66 | Top Raw #12 |
| 13 | 2022-05-10 | Swanger, Pete | 60 | 00:25:20 | 23.68 | Top Raw #13 |
| 14 | 2022-05-10 | Schafer, Brent | 27 | 00:25:33 | 23.48 | Top Raw #14 |
| 15 | 2021-09-14 | Treadway, Phil | 59 | 00:25:38 | 23.41 | Top Raw #15 |
| 16 | 2021-08-31 | Painter, Mark | 71 | 00:25:39 | 23.39 | Top Raw #16 |
| 17 | 2021-09-14 | Hohl, Ted | 59 | 00:25:42 | 23.35 | Top Raw #17 |
| 18 | 2022-04-19 | Staloch, Tim | 42 | 00:25:42 | 23.35 | Top Raw #18 |
| 19 | 2021-08-31 | Romaniuk, Greg | 50 | 00:25:49 | 23.24 | Top Raw #19 |
| 20 | 2023-04-11 | Van tress, Cory | 42 | 00:26:13 | 22.89 | Top Raw #20 |
| 21 | 2022-09-13 | Mccall, Jonathon | 55 | 00:26:21 | 22.77 | Top Raw #21 |
| 22 | 2023-05-09 | Archibald, Danny | 51 | 00:26:31 | 22.63 | Top Raw #22 |
| 23 | 2021-09-14 | Sweet, Luke | 42 | 00:26:33 | 22.60 | Top Raw #23 |
| 24 | 2022-09-13 | Buchko, Garry | 61 | 00:26:44 | 22.44 | Top Raw #24 |
| 25 | 2021-07-06 | Farr, Ryan | 51 | 00:27:00 | 22.22 | Top Raw #25 |
| 26 | 2022-04-19 | Eder, Chad | 48 | 00:27:07 | 22.13 | Top Raw #26 |
| 27 | 2022-07-05 | Schmidt, Ken | 43 | 00:27:08 | 22.11 | Top Raw #27 |
| 28 | 2023-05-09 | Mccall, Jon | 56 | 00:27:12 | 22.06 | Top Raw #28 |
| 29 | 2022-04-19 | Sarber, Scott | 53 | 00:27:16 | 22.00 | Top Raw #29 |
| 30 | 2023-04-18 | Bowker, Jason | 56 | 00:27:17 | 21.99 | Top Raw #30 |
| 31 | 2022-04-12 | Mcduffie, Steve | 57 | 00:27:19 | 21.96 | Top Raw #31 |
| 32 | 2022-09-13 | Groendyke, Craig | 76 | 00:27:27 | 21.86 | Top Raw #32 |
| 33 | 2022-07-05 | Murphy, Sean | 59 | 00:27:33 | 21.78 | Top Raw #33 |
| 34 | 2023-05-09 | Wilde, Jace | 48 | 00:27:40 | 21.69 | Top Raw #34 |
| 35 | 2021-09-14 | Airoldi, John | 60 | 00:27:52 | 21.53 | Top Raw #35 |
| 36 | 2021-07-06 | Sturges, Mark | 58 | 00:27:52 | 21.53 | Top Raw #36 |
| 37 | 2022-06-07 | Mclean, Mark | 67 | 00:28:57 | 20.73 | Top Raw #37 |
| 38 | 2021-08-31 | Powell, Chris | 38 | 00:29:14 | 20.52 | Top Raw #38 |
| 39 | 2021-08-31 | Hanf, Bill | 72 | 00:29:18 | 20.48 | Top Raw #39 |
| 40 | 2022-06-07 | M serafin, Shane | 37 | 00:29:30 | 20.34 | Top Raw #40 |
| 41 | 2022-09-13 | O'hagan, Mike | 64 | 00:29:34 | 20.29 | Top Raw #41 |
| 42 | 2023-05-09 | O'hagan, Mike | 65 | 00:30:08 | 19.91 | Top Raw #42 |
| 43 | 2022-05-10 | Anderson, Steve | 62 | 00:30:20 | 19.78 | Top Raw #43 |
| 44 | 2022-04-19 | Hoffman, Ian | 48 | 00:30:24 | 19.74 | Top Raw #44 |
| 45 | 2021-09-14 | Solbrack, Brad | 65 | 00:30:29 | 19.68 | Top Raw #45 |
| 46 | 2021-08-31 | Chu, Benjamin | 13 | 00:31:06 | 19.29 | Top Raw #46 |
| 47 | 2023-05-09 | Hanf, Robert | 74 | 00:31:11 | 19.24 | Top Raw #47 |
| 48 | 2021-08-31 | Canaday, Steve | 74 | 00:31:16 | 19.19 | Top Raw #48 |
| 49 | 2023-04-18 | Fisher, Mike | 60 | 00:31:28 | 19.07 | Top Raw #49 |
| 50 | 2022-08-30 | Sands, John | 58 | 00:32:13 | 18.62 | Top Raw #50 |
Raw Female Top 50
| | | | | | | |
| --- | --- | --- | --- | --- | --- | --- |
| Rank | Date | Rider | Age | Ride Time | MPH | Note |
| 1 | 2022-09-13 | Farawila, Anne | 47 | 00:25:02 | 23.97 | Raw KOM |
| 2 | 2022-05-10 | Brayton, Catiana | 45 | 00:26:17 | 22.83 | Top Raw #2 |
| 3 | 2022-07-05 | Wright, Athena | 43 | 00:27:24 | 21.90 | Top Raw #3 |
| 4 | 2023-05-09 | Spangle, Diana | 68 | 00:28:00 | 21.43 | Top Raw #4 |
| 5 | 2022-04-19 | Palmer, Rose | 41 | 00:30:00 | 20.00 | Top Raw #5 |
| 6 | 2022-04-19 | Staloch, Trina | 39 | 00:31:21 | 19.14 | Top Raw #6 |
| 7 | 2021-09-14 | Strycula, Diane | 60 | 00:32:39 | 18.38 | Top Raw #7 |
| 8 | 2021-09-14 | Solbrack, Missi | 61 | 00:32:42 | 18.35 | Top Raw #8 |
| 9 | 2021-08-31 | Hanf, Diane | 65 | 00:34:00 | 17.65 | Top Raw #9 |
| 10 | 2021-09-14 | Mclean, Linda | 65 | 00:36:54 | 16.26 | Top Raw #10 |
| 11 | 2021-09-14 | Bamberger, Judith | 69 | 00:41:30 | 14.46 | Top Raw #11 |
| 12 | 2021-08-31 | Stock, Colleen | 84 | 00:52:51 | 11.35 | Top Raw #12 |